Bro. James C. McCandless: Imperial Potentate & Sixth Deputy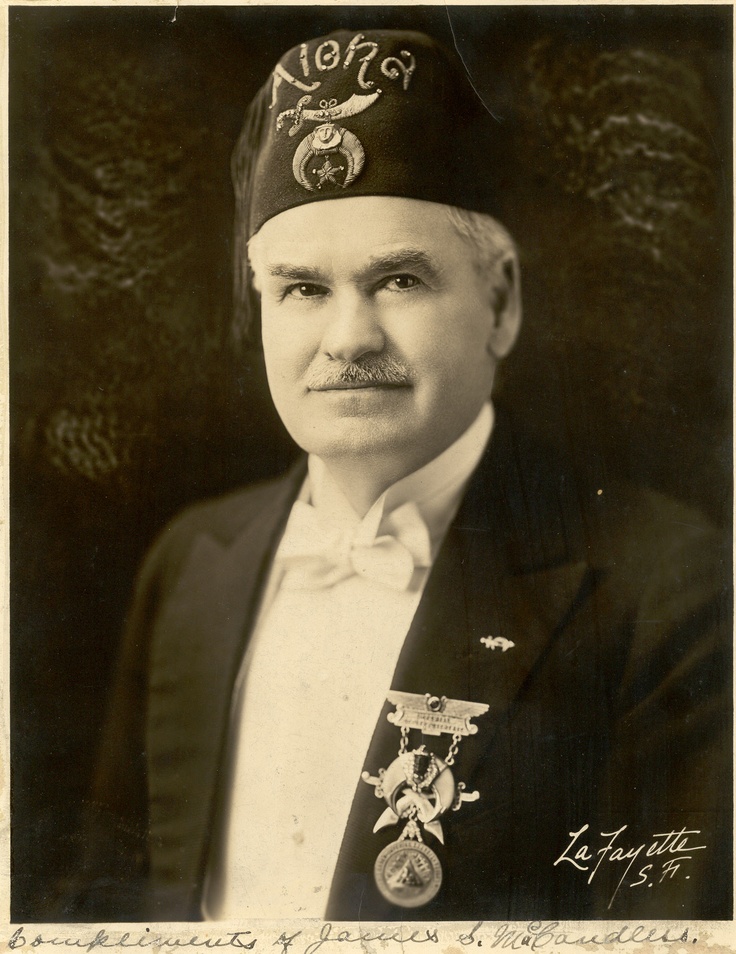 James "Sunny Jim" Sutton McCandless, born in Indiana, Pennsylvania September 20, 1855. He moved to Hawaii on December 30, 1880 at the age of 25. His profession was that of artesian well driller and he and his brother accounted for over 600 wells enabling operation of Ewa, Oahu, Kahuku and Wailua sugar plantations.
McCandless was raised a Master Mason on February 14, 1903 in Pacific Lodge No. 822 (now Honolulu Lodge F&AM). Honolulu Commandery of the York Rite Freemasonry elected him Eminent Commander in 1911. He was an organizer of Honolulu Conclave (now Opukahaia Conclave) of the Red Cross of Constantine; a charter member, Sovereign and Intendant General for Hawaii successively. In 1922 the delegates of the Order of the Mystic Shrine A.A.O.N.M.S. (now Shriners International) elected him as Imperial Potentate, to date the only such officer from Hawaii. Shriners Hospitals for Children in Honolulu, second in the list of such institutions, claims McCandless as a founder and member.
McCandless was the sixth Deputy of Scottish Rite Freemasonry in Hawaii. He received his 32° on November 11, 1908 and was invested as a Knight Commander Court of Honor on October 19, 1921. He served as Venerable Master of Lodge of Perfection from 1922-1924, and on February 16, 1934 was coroneted as a 33° Honorary.
McCandless successfully led Hawaii Freemasonry through World War II and the bombing of Pearl Harbor. Freemasonry flourished under McCandless' leadership. Following the attacks on Pearl Harbor, McCandless setup a Masonic first-aid station which was open on 24-hour basis. It was manned by 75 people; registered nurses, dietitians, ambulance corpsmen and others. McCandless also set-up three bunkers on Masonic grounds.
In swelling numbers service men were ordered to the islands – Army, Navy, Air Force, Coast Guard. Consequently, masonic membership flourished and between 1940 and 1950 membership in the Scottish Rite doubled. One good result of McCandless' leadership and the rapport among local and mainland masons was the substantial number of those returning to the mainland upon completion of military duty who chose not to demit, but to retain their Hawaii masonic affiliations.